The lands of Hallownest are filled by several groups of strange sentient creatures. They occupy various territories around the vast kingdom and developed their own societies and cultures aside from the Pale King's rule.
Table of Contents
Bees • Flukes • Fools • Mantis Tribe • Mosskin Tribe • Moth Tribe • Mushroom Clan • The Nest • Snail Shamans • Soul Sanctum's Scholars • The Grimm Troupe • Godseekers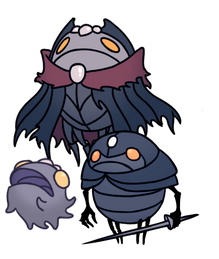 The bugs of the Soul Sanctum are highly intelligent scholars[1] who served the Kingdom of Hallownest. They researched ways to expand the mind and attain pure focus,[2] secluded in their sanctum in the kingdom's capital. When the kingdom's minds became plagued by the Infection, the Soul Master, head of the sanctum, sought its cure in the soul,[3] the energy animating bugs and beasts alike.[4] He refused to listen to the Pale King opposing his work,[4] failing to realize that his own infected mind was influencing him.[5]
In their madness, the scholars consumed souls, convinced it would lead them to immortality.[6] These experiments had their share of failures, deforming some of them into formless Mistakes and Follies.[7] More successful ones retained their physical integrity, becoming supernaturally skilled Soul Twisters and Warriors.
The infected scholars kept hoarding souls as the Kingdom fell. They gathered Soul Totems and many bugs from which to harvest the vital energy. They eventually used the furthest rooms of the Sanctum to unceremoniously discard the ancient structures as well as the husks of their victims. They even captured a Snail Shaman to forcefully steal its soul abilities.
Unlike the kingdom's bugs, the scholars survived the fall of Hallownest. Some of them remained in the Soul Sanctum and attack any intruder, with the Soul Master still clinging to the Infection's false promise of immortality.[8] Others, although also infected, joined the Colosseum of Fools as fighters. The Volt Twisters, in particular, adopted the teachings of the sanctum to evolve their abilities and continue fighting or meditating in seclusion.[9]
References
Community content is available under
CC-BY-SA
unless otherwise noted.