Sharp Shadow is a Charm in Hollow Knight. It damages enemies when dashing through them and increases dash length when using the Shade Cloak.[Note 1]
Usefulness
Enemies struck by the Sharp Shadow do not generate SOUL.
Sharp Shadow can harm enemies that are immune to Nail attacks.
Be warned that while the 40% increase to dash length can be useful against certain bosses, making it easier to dash through them and their attacks, it can also make some platforming sections more difficult.
How to Acquire
Located in Deepnest, southeast of the Hot Spring behind a Shade Gate. Requires Shade Cloak.
Charm Synergies
| | |
| --- | --- |
| Dashmaster | Increases the damage dealt by the shadow to 1.5 x Nail damage. Does not affect charge or cooldown time.[Note 2] |
Trivia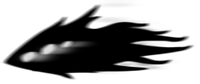 ---
Notes
↑

The damage is rounded to the nearest integer; for all possible values this is identical to rounding up.