World of Warcraft: Dragonflight - The Loop
Play Sound

Have you heard of Hallownest's Queen? Apparently these gardens were once her retreat... Now some vicious types are crawling all over the place and the plants have grown wild...

The Queen's Gardens is a lush area featuring ornate gates, thorns, and perilous platforms located in the west part of Hallownest.
Description
The Gardens are filled with overgrown vegetation, thorny vines, and neglected greenhouses.[1][2] Lanterns with Lumaflies light up the area. Besides the Hallownest structures and flowering plants, tents have cropped up in the Gardens, housing the Mantis Traitors.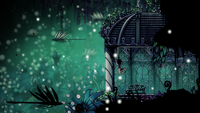 The south-east part of the Gardens contains a corpse holding the Love Key. Below this area is the Moss Chapel where the Moss Prophet preaches. In the central part of the Queen's Gardens is a Stag Station, which can be opened by going above and around this room. Along the way, the Warrior Dream Marmu can be found.
Further north is a greenhouse where the Traitor Lord is fought. The White Lady is located west of this area, alongside the corpse of Dryya. After the Traitor Lord's defeat, she grants a White Fragment, half of the Kingsoul Charm. The grave of the Traitor Lord's daughter is located above the Stag Station. This room is important for the Delicate Flower quest.
Lore
The Queen's Gardens used to belong to Unn and her Mosskin Tribe.[3] At some point this area was annexed by the White Lady, who turned it into her well-guarded retreat.[3][4] After the White Lady bound herself in her chamber in the Gardens and the Infection returned, the Gardens grew wild and became overgrown.[5][6][7]
When the Mantis Traitors were exiled from their village in the Fungal Wastes, they eventually settled in the Queen's Gardens.[8] They now consider the gardens to be their lands.[9]
How to access
There are initially only two accessible entry points into the Gardens, both from Fog Canyon. The Gardens can be accessed from the upper entrance below the Overgrown Mound with the Shade Cloak, bypassing a Shade Gate. The second way to enter the area is by taking the lower entrance by using Isma's Tear (or a very well-timed Super Dash) to cross below the wall of vines via an acid pool.
Gallery
Trivia
An early name for the Queen's Gardens was the "Royal Garden".[10]
---
References