Member of an elusive guild of bugs fixated on the maintenance of Hallownest's many signs and wayposts.
---
The bugs of Hallownest were obsessed with building things. What strange little minds they had.

Menderbug is an enemy in Hollow Knight. He can be found repairing the sign at the bottom of the well in the Forgotten Crossroads.
Behaviour and Tactics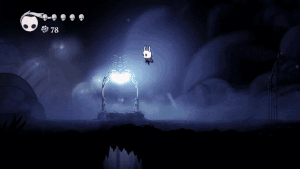 Menderbug has a 2% chance to spawn at the entrance of Forgotten Crossroads right below Dirtmouth. To spawn, the following conditions must be met:
The sign at the entrance must be destroyed
The player must leave and re-enter the room
Upon seeing the Knight, Menderbug quickly flies away and leaves the room.
To kill Menderbug, enter the Forgotten Crossroads from Dirtmouth using Desolate Dive/Descending Dark. This destroys the sign upon landing and, if he has spawned, also kills Menderbug. He can also be spawned by leaving the room to the west or east within the Forgotten Crossroads; however, this method takes significantly more time and makes it easier to fail to kill Menderbug. One of the easiest ways to catch him is in the late game after acquiring Kingsoul and/or Salubra's Blessing to refill SOUL easily.
Menderbug's Diary
After killing Menderbug, his house is unlocked. The house can be found in the same village where Sly is first found infected.
Dialogue
Diary Entries
Reading the diary
Dear Dear Diary,


Isn't life just the most beautiful thing. Fixing signs, mending posts, let them break I say! I'm a better mender for all that repairing.


I sometimes doubt there's a single bug in Hallownest happier than me.

---

Hello Again Diary,
Not long now till the next Menderbash! For a stealthy types, we're a riotous bunch when we get together.
And Mender Berri kept flashing me that smile! Might be time to muster my courage and act on it.


I love my home and my life, but sharing it with another, why that'd be the Berri on top!

---

My Lovely Diary,
Someone's gone and broke my favourite sign! Right there at the top of the crossroads. Keeps happening too!
But you know, I just can't get mad about it. I should be thanking them really! More chances to fix that beautiful, complex sign.
And I've stocked up on spare parts, so I've no fear it'll ever stay broken for long.
Location
Menderbug is located beneath the well in the Forgotten Crossroads.
Gallery
Trivia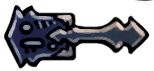 There is an unused key found in the game files named Mender_Key and in early dev notes, it is implied that Menderbug would drop this key called an "Odd Key" that would probably then allow access into his house.[3]
Killing Menderbug is not needed in order to acquire the Hunter's Mark.
Menderbug cannot be read by the Dream Nail.
Upon death, Menderbug emits an Infection cloud, despite not showing any hostility like infected creatures do.
The sign at the entrance of the Forgotten Crossroads remains broken after Menderbug is killed.
Menderbug still spawns in the Infected Crossroads.
References
Compendium
Main Game
Crawlid • Vengefly • Vengefly King • Gruzzer • Gruz Mother • Tiktik • Aspid Hunter • Aspid Mother • Aspid Hatchling • Goam • Wandering Husk • Husk Hornhead • Leaping Husk • Husk Bully • Husk Warrior • Husk Guard • Entombed Husk • False Knight (Failed Champion) • Maggot • Menderbug • Lifeseed • Baldur • Elder Baldur

---

Mosscreep • Mossfly • Mosskin • Volatile Mosskin • Fool Eater • Squit • Obble • Gulka • Maskfly • Moss Charger • Massive Moss Charger • Moss Knight • Mossy Vagabond • Durandoo • Duranda • Aluba

---

Charged Lumafly • Uoma • Ooma • Uumuu

---

Ambloom • Fungling • Fungoon • Sporg • Fungified Husk • Shrumeling • Shrumal Warrior • Shrumal Ogre • Mantis Youth • Mantis Warrior • Mantis Lords

---

Husk Sentry • Heavy Sentry • Winged Sentry • Lance Sentry • Mistake • Folly • Soul Twister • Soul Warrior • Soul Master (Tyrant) • Husk Dandy • Cowardly Husk • Gluttonous Husk • Gorgeous Husk • Great Husk Sentry • Watcher Knight • The Collector

---

Belfly • Pilflip • Hwurmp • Bluggsac • Dung Defender • Flukefey • Flukemon • Flukemarm

---

Shardmite • Glimback • Crystal Hunter • Crystal Crawler • Husk Miner • Crystallised Husk • Crystal Guardian (Enraged)

---

Furious Vengefly • Volatile Gruzzer • Violent Husk • Slobbering Husk

---

Dirtcarver • Carver Hatcher • Garpede • Corpse Creeper • Deepling • Deephunter • Little Weaver • Stalking Devout • Nosk

---

Shadow Creeper • Lesser Mawlek • Mawlurk • Brooding Mawlek • Lightseed • Infected Balloon • Broken Vessel (Lost Kin)

---

Boofly • Primal Aspid • Hopper • Great Hopper • Grub Mimic • Hiveling • Hive Soldier • Hive Guardian • Husk Hive

---

Spiny Husk • Loodle • Mantis Petra • Mantis Traitor • Traitor Lord

---

Sharp Baldur • Armoured Squit • Battle Obble • Oblobbles • Shielded Fool • Sturdy Fool • Winged Fool • Heavy Fool • Death Loodle • Volt Twister • Zote • God Tamer

---

Xero • Gorb • Elder Hu • Marmu • No Eyes • Galien • Markoth

---

Wingmould • Royal Retainer • Kingsmould • Sibling • Void Tendrils

---

Hornet (Protector • Sentinel) • Hollow Knight • Radiance • Shade • Hunter's Mark

Hidden Dreams
Grey Prince Zote • Winged Zoteling • Hopping Zoteling • Volatile Zoteling • White Defender

The Grimm Troupe
Grimmkin Novice • Grimmkin Master • Grimmkin Nightmare • Grimm • Nightmare King • Seal of Binding

Lifeblood
Hive Knight

Godmaster
Flukemunga • Pale Lurker • Sisters of Battle • Winged Nosk • Nailmasters Oro & Mato • Paintmaster Sheo • Great Nailsage Sly • Pure Vessel • Absolute Radiance • Void Idol • Weathered Mask
Community content is available under
CC-BY-SA
unless otherwise noted.