Mark of Pride is a Charm in Hollow Knight. It increases the range of the Nail by 25%.
Usefulness
It is useful for keeping distance from more dangerous enemies and for performing safer Nail-bounces.
While it grants a longer range than Longnail, it is more challenging to acquire and has higher notch cost.
It does not affect the range of Nail Arts or Grubberfly's Elegy.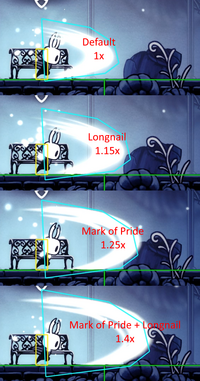 How to Acquire
In the Mantis Village, in a chest in a room to the northeast of the Mantis Lords arena. This room can only be accessed after defeating the Mantis Lords.
Charm Interactions
Longnail


Stacks additively with Longnail to increase nail range by 40% total.

Grubberfly's Elegy


Increases the size of the projectiles from Grubberfly's Elegy.

Quick Slash


Useful to keep enemies consistently within melee range while attacking.
Charm Compendium

Main Game

---

Wayward Compass

Gathering Swarm

Stalwart Shell

Soul Catcher

Shaman Stone

Soul Eater

Dashmaster

Thorns of Agony

Fury of the Fallen

Fragile Heart

Fragile Greed

Fragile Strength

Spell Twister

Steady Body

Heavy Blow

Quick Slash

Longnail

Mark of Pride

Baldur Shell

Flukenest

Defender's Crest

Glowing Womb

Quick Focus

Deep Focus

Lifeblood Heart

Lifeblood Core

Joni's Blessing

Grubsong

Grubberfly's Elegy

Hiveblood

Spore Shroom

Sharp Shadow

Shape of Unn

Nailmaster's Glory

Dream Wielder

Kingsoul

Void Heart

The Grimm Troupe Content

---

Unbreakable Heart

Unbreakable Greed

Unbreakable Strength

Dreamshield

Weaversong

Sprintmaster

Carefree Melody

Grimmchild
Community content is available under
CC-BY-SA
unless otherwise noted.