Jinn, little know... cannot tell of self. Too young, its thought, its mind. Born to provide, to trade.

-Steel Soul Jinn

Steel Soul Jinn is a Merchant in Hollow Knight. She only appears in Steel Soul Mode, replacing Confessor Jiji.
Lore
Jinn resides in the locked cavern by the base of Crystal Peak in Dirtmouth, where she has been sleeping.[2] She has unseen masters who do not seek order.[3] Jinn speaks in rhythm and claims to be too young to tell anything about herself beside her purpose of providing and trading.[4][5] Her metallic body cannot take damage, although she still reacts to strikes at her.[6]
In-game events
Steel Soul Jinn replaces Jiji in Steel Soul Mode, as the difficulty mode's permanent death makes Jiji's service useless. She is disgusted by Rancid Eggs, but will still buy them for

290-449 each, as a favor to a friend which she claims appreciates them. This is also an excuse for her to get rid of the Geo she accumulated after helping or hurting other creatures, despite not wanting any.[7]
Dialogue
First encounter
...Is It... here, waking Jinn?..


Observed... Small. Dull. No Soul. Long shadow... It is blank, but brave...
Does it bring offering?
Jinn, has only many small, shiny things... useless to Jinn, but will trade for wonderful gift.

Offering trade
...Would It offer gift so wonderful to Jinn...?
Returning
...It came back. Does it remember Jinn? Will It offer a gift? Trade for useless shinies?
Refusing trade
...It refuses to trade...? It has a will... all Its own. Can refuse. Jinn will keep waiting... until a gift comes.
Offering another Rancid Egg
...Another? Does It offer gift to Jinn...?
Accepting
...Gift is... horrible gift. Digusting... sic


But Jinn knows one who appreciates...Friend of Jinn. Eats nasties. Loves nasties. Shall accept. Shall provide.
Shinies for tiny It... Good to give Shinies. Less burden for Jinn.

Accepting more Rancid Eggs
...Another horrible... disgusting gift. Jinn will keep gift for... Friend of Jinn... and It shall have shinies. That is trade...
No more Rancid Eggs
...A problem. It did not bring the gift Jinn wants. No trade can occur... None.


...Will It seek out the gift Jinn wants? The horrible... round... disgusting gift? Will It return? Jinn will be waiting...

Dream Nailed
Does Jinn dream?... What purpose, mine?... To serve, enough?
Listening while standing on her right side
...Does It wish to trade? If trade is desired, step before Jinn and trade can commence.
Listening again
...Does It want to know of Jinn?...


Jinn, little know... cannot tell of self. Too young, its thought, its mind. Born to provide, to trade.
Will help, to trade, yes?... Bring Jinn gift. Wonderful gift.

Listening again
...Its body, so soft... Fragile... Inferior built. Not like Jinn.


Jinn, does not take... hurt. Jinn shall last.

After selling at least 3 Rancid Eggs
It likes Jinn's shinies? Jinn has many... many. Gifts, from another, helped by Jinn. Hurt by Jinn.


Jinn did not want shinies. Only clutter. Mess. But can trade, for gift.

After acquiring King's Brand
...A King, the tiny It becomes. Jinn knows that mark, but cannot bow.


Jinn's masters are other... minds other... Not order. Not order, they seek.

After acquiring Void Heart
This It... A rare It. Has not seen many, so vulnerable, but triumphant. Makes Jinn feel a thing... surprise?


Jinn misjudged... The It is not inferior. Perhaps... different? Different to Jinn. More complete? Different... like masters?
Location
Steel Soul Jinn is located on the very east side of Dirtmouth, within a cave that requires a Simple Key to open.
Gallery
Trivia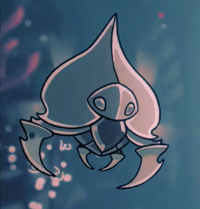 The friend she mentions who likes Rancid Eggs is most likely Confessor Jiji, who is willing to offer her services for them.
Jinn is one of the few NPCs who can be "hit" with the Nail without taking damage.
An upcoming enemy revealed in the Hollow Knight: Silksong trailer bears a striking similarity to Jinn. It is also a companion to Steel Assassin Sharpe furthering some sort of motif of "steel" between the characters.
Jinn is mistakenly referred to as male in some translations of the game.[8]
References
Community content is available under
CC-BY-SA
unless otherwise noted.