Former member of Hallownest's high society. Limited offensive ability.
---
It seems the weakest, greediest members of Hallownest were also the one who exerted the most influence. Truly a Kingdom that was always destined for ruin.

Husk Dandies are enemies in Hollow Knight. Before dying and being reanimated by the Infection, these weak bugs used to be members of Hallownest's upper class.[1][2]
Behaviour and Tactics
Meanders back and forth until engaged. Upon drawing close, it lunges towards the Knight and attacks with a flurry of unarmed blows. This attack is very short-ranged and leaves it open for a counterattack, as it is completely stationary while using it.
Your smell...Poor...Kill you...
You want....My Geo?
This wealth...Mine...All mine...
...Stay back...
---
Location
Located mainly in the eastern portion of the City of Tears.
Gallery
Trivia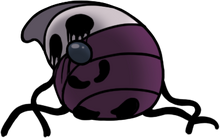 "Too long... spent together. We become as one..."
References
Community content is available under
CC-BY-SA
unless otherwise noted.