Leaps at prey and uses its sharp proboscis to drain vital fluids.
---
This hopping thief's belly is full of the blood it has stolen from other beasts. If you hold it above a fire, the belly will grow and grow until it explodes in a steaming shower of fluids.

Hoppers are enemies in Hollow Knight. These agile creatures are the juvenile form of the Great Hoppers.[1] They use their proboscis to drain fluids from prey.[2]
Behaviour and Tactics
Hops in one direction until it hits a wall, where it then turns around and continues hopping in the other direction. It only deals contact damage.
The best tactic to deal with it safely is to continually attack it from the front, as the knockback is enough to keep it away. It has a surprisingly high amount of health and drops a large amount of Geo for such a common enemy.
...Light...Danger...
...Safe...Dark...
...Hungry...Hungry...
...Scared...
...Eat...When...
...Kill...Hurt...
...Away. Away...
...Pain...
---
Location
They can be found in most of Kingdom's Edge, except for the southwest part. They are also found in the 8th wave of the Trial of the Conqueror.
Gallery
Trivia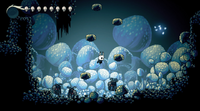 During the beta for Hollow Knight, Hoppers could be found in the Forgotten Crossroads, their positions have been mostly replaced by Crawlids.[3]

An early screenshot also showed the Hoppers in a "mushroom_grotto".[4]
References
Community content is available under
CC-BY-SA
unless otherwise noted.