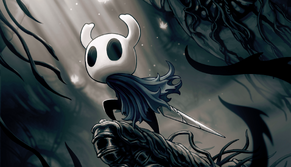 Hollow Knight is a 2D side-scrolling action adventure video game in the Metroidvania style. It was developed by Team Cherry and released for Microsoft Windows on the 24th of February, 2017, macOS and Linux on the 11th of April 2017, the Nintendo Switch on the 12th of June, 2018, and Xbox One and PlayStation 4 on the 25th of September, 2018.
Development was partly funded through a Kickstarter crowdfunding campaign, raising $58,893 AUD in December 2014.
Gameplay
Players explore the large interconnected world of Hallownest using a variety of movement and combat techniques. In classic Metroidvania style, there are areas of the world that the player cannot access until they obtain particular items or abilities. Maps for each area must be bought from a shopkeeper generally hidden somewhere in that area, and the player can also buy upgrades that place markers on the map or allow them to reveal parts of the map as they explore. Many areas have a 'boss' enemy that the player must defeat in order to continue, and a number of sub-bosses that drop useful rewards or upgrades.
Defeated enemies drop Geo, a currency that the player can use to buy items from shopkeepers. If the player is killed, they respawn at the last place they rested and lose all their Geo. They must then return to their corpse and defeat a ghost in order to recover the currency. The player also earns 'Soul' by attacking enemies, which they can then spend to recover lost health or activate special abilities. Health can also be recovered at hot springs, which are located around the world, or by resting at a Bench.
Reception
The game was well-received, with the PC version having a score of 87/100 on reviews aggregation website Metacritic, and the Switch version having a score of 90/100. On whatoplay.com, it receives an aggregate score (playscore) of 9.07 on PC based on 19 critics and 69,600+ gamer ratings, and 8.76 on Nintendo Switch.
Tom Marks, writing at PC Gamer described the game as "the most beautiful hand drawn game [he'd] ever played". Jed Whitaker of Destructoid gave the game a 10/10, stating that it is "[t]ruly a masterpiece of gaming if there ever was one, and certainly art worthy of being in a museum." Some reviewers were critical of the game's lack of innovation in certain areas, such as Metro GameCentral, who said that while "[g]orgeously presented and cleverly designed, this impressively realised Metroidvania excels in every area except originality."

Community content is available under
CC-BY-SA
unless otherwise noted.