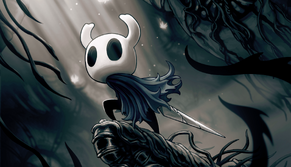 Hollow Knight is a 2D side-scrolling action adventure video game in the Metroidvania style. It was developed by Team Cherry and released for Microsoft Windows on the 24th of February, 2017, macOS and Linux on the 11th of April 2017, the Nintendo Switch on the 12th of June, 2018, and Xbox One and PlayStation 4 on the 25th of September, 2018.
Development was partly funded through a Kickstarter crowdfunding campaign, raising $58,893 AUD in December 2014.
Gameplay
The Knight can explore the large interconnected world of Hallownest using a variety of movement and combat techniques. In classic Metroidvania style, there are areas of the world that the Knight cannot access until they obtain particular items or abilities. Maps for each area must be bought from a shopkeeper generally hidden somewhere in that area, and the Knight can also buy upgrades that place markers on the map or allow them to reveal parts of the map as they explore. Many areas have a 'boss' enemy that the Knight must defeat in order to continue, and have a number of sub-bosses that drop useful rewards or upgrades.
Defeated enemies drop Geo, a currency that the Knight can use to buy items from shopkeepers. If the Knight is killed, they respawn at the last place they rested and lose all their Geo. They must then return to their corpse and defeat their Shade in order to recover the currency. The Knight also gains 'SOUL' by attacking enemies, which they can then spend to recover lost health or activate special abilities. Health can also be recovered at hot springs, which are located around the world, or by resting at a Bench.
Reception
The game was well-received, with the PC version having a score of 87/100 on reviews aggregation website Metacritic, and the Nintendo Switch version having a score of 90/100.
Tom Marks, writing at PC Gamer described the game as "the most beautiful hand drawn game [he'd] ever played". Jed Whitaker of Destructoid gave the game a 10/10, stating that it is "[t]ruly a masterpiece of gaming if there ever was one, and certainly art worthy of being in a museum." Some reviewers were critical of the game's lack of innovation in certain areas, such as Metro GameCentral, who said that while "[g]orgeously presented and cleverly designed, this impressively realised Metroidvania excels in every area except originality."
Credits
A game by
Team Cherry




Ari Gibson     William Pellen




Technical Director
David Kazi




Sound & Music by
Christopher Larkin




Marketing & Public Relations
Matthew 'Leth' Griffin




Systems & Tools Programming
David Kazi

Additional Programming
Jack Vine

Additional Coding Tools
David Lancaster
Michael Jenkins

Additional Environment Dressing
Tyler Bartley
Nathan Elmer

Additional Character Voices
Makoto Koji
Tyler Bartley
Hari Dimitriou
Matthew Griffin
Hannah Murdoch
Bill Northcott
Zara Pellen
Victoria Roberts
Cassandra "Friskk" Reyna
Not Shalulu

Vocals - City of Tears
Amelia Jones

Viola
Tim Cheel

Additional Atmos
Tim Whitt

Localization Lead
Matthew Griffin

Translation - French
Not Shalulu

Translation - Russian
Alexander Preymak

Additional Translation - Russian
Danila Evstifeev
Andrey Torbin
Alexandra "Alphyna" Golubeva

Translation - Chinese
Yun Wei 韦昀
Ruiyuan Li 李锐媛
Xuan Su 玄素
Kust 卡斯特
Wesley King 王凯
Steven Sun 孙天乐

Translation - Italian
Fredrica Gaeta
Marco Bortoluzzi
Vecna

Japanese Localization
Ryu Ito

Japanese Publishing Support
Kakehashi Games

Translation - Brazilian Portuguese
Lucas "Luska" Fernandes
Vinícius "Viniuau" José
Jonas Breda "Poteiga!"
Luiz Fernando S. M. Maia
Guilherme Antonio Canani
Vinícius de Medeiros Miguel

Additional Translation - German
Tobias Gut
Alessandro Raffaele Addamo
Daniel Spiekermann
Mercedita

Additional Translation - Spanish
Daniel Ruiz "TheBrightKing"

Additional Translation - Korean
Jungho Basil Wong

Testing Lead
Matthew Griffin

Game Testers
Hari Dimitriou     Ayako Hibino
Tyler Bartley     Ben Newhouse
Lili Carlyle     Pirate-Rob
Joshua Clark     Unborn_Pho3nix
Andrew Cook     Kyle Pulver
Shannon Cross     Greg Smith
Vero "Embraced" Reichert     Luke Souris
Rohan Fraser     Matthew White
Nassim "Simo" Gebrail     Kein Zantezuken
Tobias Gut     Benjamin Zarb

Game Testers - Mac
David Keen
Marcus Herrick
Jonathan Penney
Wayne Psaila

Shark Jump Studios
Matt Le Krupa
James Pearse
Tom Lee
Brad Wesson

Porting Lead - Shark Jump
Matthew Le Krupa

Porting Lead - Shark Jump
James Pearse

Indie Fund
Jeffery Rosen
John Graham
Ben Newhouse
Kyle Pulver
Ron Theis

Figurine Sculptor
David Díaz Patrón

Additional Enemy Behaviour
Pat Sigly

Interns
James Gillham
James Ross McNabb

Special Thanks Music
Jeff Van Dyck
Russel Larkin
Mitchell Larkin
Fabian Malabello
Andriana Tran
Angelo Valdiva

Special Thanks
Ludum Dare
Warren Fenn
Rohan Fraser
Ben Gibson
Makoto Koji
Trent Kusters
Morgan Jaffit
Rod Jago
Tim Mcburnie
John Millard
Jason Pamment
Zara Pellen
Victoria Roberts
Lilly Sim
Nicola Stark
Sharyn Stone
Steven Sun
Matt Trobbiani
Dan Treble
Peter Yong
Jenni Vigaud
Chris Wright

Extra Special Thanks to
2158 Backers
& Kickstarter

Community content is available under
CC-BY-SA
unless otherwise noted.