Noxious caverns filled with spores. Unlike the bug inhabitants of the rest of Hallownest, the inhabitants of the Wastes are mushroom-like in physicality. It holds the Mantis Village to the south, and the main entrance of City of Tears to the east.
Sub-area: Queen's Station  
A large
Stagway
terminal that is mostly run-down. It connects the Fungal Wastes with
Fog Canyon
, and is also where the player meets
Willoh
and finds Quirrel for the third time.
Just as Quirrel states in his dialogue regarded the Stag Bells, if the players stands still and listens closely, they will hear the faded tollings of the Stagway bells and even some of the gibberish language that the bugs of Hallownest speak in.
Sub-area: Mantis Village
A small village home to the warrior race of
Mantises
. The enemies in the zone are initially hostile, but will no longer attack after the
Mantis Lords
are defeated (unless they are attacked first).
Sub-area: Fungal Core
A mini-dungeon area with several hidden tunnels, accessible once the player has the
Monarch Wings
. The bottom of the zone leads to a hidden
Mask Shard
in
Deepnest
.
Gallery
Trivia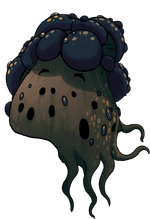 A giant hidden mushroom can be found in the Fungal Core. When struck with the Dream Nail the following message is shown:
"Pale Wyrm...What good to foresee a demise unavoidable?"
There are several lore tablets in the Fungal Wastes, but they require the player to have the Spore Shroom charm equipped in order to read them.
If the player listens carefully while wearing the Spore Shroom near a Lore Tablet, they will hear the background music turn quiet and a chorus of voices speaking the same gibberish babbling of Mister Mushroom.
Community content is available under
CC-BY-SA
unless otherwise noted.