Goods and travellers used to flow through these ancient roads. They've long fallen to disrepair and become infested with aggressive bugs and husks of former residents.
It is the first full area the Knight explores, and where they will encounter several NPCs.
Sub-area: Ancestral Mound 
Home to the
Snail Shaman
who grants the Knight the
Vengeful Spirit
spell. After obtaining the spell, the Knight will fall unconscious and awaken behind a locked gate. Killing the
Elder Baldur
in this area will open this gate. After this, the Knight will be able to progress to
Greenpath
by killing the Elder Baldur guarding its entrance.
Sub-Area: Temple Of The Black Egg  
A temple housing a massive black egg adorned with the three masks of the
Dreamers
. Initially, the Knight is prevented from entering the Black Egg by a
seal
on the entrance. After killing all three Dreamers, this seal is broken and the entrance is opened. This area grants access to
the Hollow Knight
and
the Radiance
boss fights.
Infected Crossroads
After either acquiring
Monarch Wings
or killing one of the
Dreamers
, the
Infection
will have spread through the Crossroads, with orange pustules of goo appearing in the environment. Navigation becomes more difficult due to the Infection closing off certain paths (
Two passages will have been completely sealed off by the Infection making them inaccessible as labelled on the map)
. In addition, most of the standard enemies are replaced by new, stronger variants (with most exploding upon death due to the infection).
The right passage blocking off the stag-station does not necessarily mean the Knight has to navigate and walk through the entire Infected Crossroads, they can just go through the short passage connecting to the tram to the Resting Grounds with the rare Husk Warriors.
When the Crossroads become infected, the door to the west of Ancestral Mound will automatically be opened, even if the lever to open it has not been hit.
| | |
| --- | --- |
| | The following enemies are only additions and minor replacements to the enemy roster of the Crossroads; some of the original enemies still remain. |
Special rooms
Aspid Nest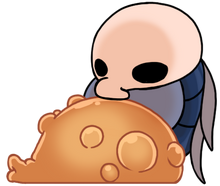 This room can be accessed above the path to False Knight's area.
The Aspid's nest appears heavily infected even before triggering Infected Crossroads. It contains Aspid Hunter and Aspid Mother, when first entering the Knight will be locked in the room and will have to fight small waves of Aspid.
After the challenge being accomplished, blobs of infections will burst giving access to a giant Aspid Mother's corpse on which the Knight can get the Glowing Womb charm.
Gallery
Community content is available under
CC-BY-SA
unless otherwise noted.