Raise a Floppa - The Loop
Play Sound

Swarming predator of the Deepnest. Burrows through the ground and bursts out to surprise prey.
---
Springy and vicious, these hunters will try to overwhelm you with numbers in the dark, tight, twisting caverns they carve through the ground. Always be on your guard!

Dirtcarvers are enemies in Hollow Knight. They are crawling predators who dig small tunnels and burst out of them to surprise prey.[1][2]
Behaviour and Tactics
Burrows out of the ground with little warning then charges at the Knight. Occasionally it burrows back into the ground only to re-emerge later. It can climb walls and jump down ledges to pursue the Knight.
The best tactic is to attack them from above as they cannot attack upwards, only angrily hiss from below.
Despite having seemingly random spawning locations, Dirtcarvers always crawl out of the same locations and multiple Dirtcarvers can crawl out of the same one.
When a Dirtcarver is killed, a new one spawns after 4 seconds. This new Dirtcarver also spawns a new one 4 seconds after it dies, leading to infinite Dirtcarvers.
...Light...Danger...
...Safe...Dark...
...Hungry...Hungry...
...Scared...
...Eat...When...
...Kill...Hurt...
...Away. Away...
...Pain...
Location
Dirtcarvers can only be found in Deepnest, mainly in its northeast portion, near the entrance to the Fungal Wastes. They can also be spawned by a Carver Hatcher.
Gallery
Trivia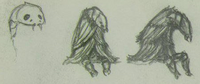 There used to be a glitch where invisible Dirtcarvers would spawn.
A Dirtcarver sketch could be seen in an exhibition at the Australian Centre for the Moving Image.[3] It shows a Dirtcarver on top of a bipedal body with a cloak.
---
References