Located to the east of Dirtmouth, a tall mountain once mined for its precious crystal. The husks of many miners still labour about their task.
Sub-area: Hallownest's Crown 
A deserted peak covered in glowing glyphs and a large statue that resembles
the Radiance
looking down onto
Dirtmouth
. It is accessible by either using
Monarch Wings
or bouncing off of enemy projectiles.
Sub-area: Crystallised Mound
A grotto overgrown with crystals at the east end of Crystal Peak, across the chasm leading to
Resting Grounds
. Entering this area requires
Desolate Dive
and the
Lumafly Lantern
is recommended. As well as
Crystal Heart
or
Monarch Wings
is also required to cross the chasm. It contains a platforming section which leads to the corpse of a
snail shaman
, the living
Snail Shaman
's fourth aunt, according to him, encased in crystals. Breaking the crystal unlocks the
Descending Dark
Spell.
Trivia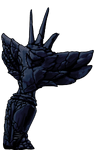 There is a statue at the top of Hallownest's Crown which bears resemblance to the Radiance. Dream-nailing this statue will yield the lines:
"...Remember... Light..."
Gallery
Community content is available under
CC-BY-SA
unless otherwise noted.