There is some strange power hidden in the crystals that grow up there in the peaks. They gleam and glow in the darkness, a bright point of searing heat in each one. They sing too, if you listen. Very softly...
– The Hunter

Located to the east of Dirtmouth, a tall mountain once mined for its precious crystal. The husks of many miners still labour about their task.
---
Points of Interest
 Inhabitants
Sub-area: Hallownest's Crown 

A deserted peak covered in glowing glyphs and a large statue that resembles the Radiance looking down onto Dirtmouth. It is accessible by either using Monarch Wings or bouncing off enemy projectiles.
---
Points of Interest
Sub-area: Crystallised Mound

A grotto overgrown with crystals at the east end of Crystal Peak, across the chasm leading to Resting Grounds. Entering this area requires Desolate Dive and the Lumafly Lantern is recommended. As well Crystal Heart or Monarch Wings is also required to cross the chasm. It contains a platforming section which leads to the corpse of a snail shaman, the living Snail Shaman's fourth aunt, according to him, encased in crystals. Breaking the crystal unlocks the Descending Dark Spell.
---
Points of Interest
Inhabitants
Gallery
Trivia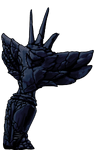 There is a statue at the top of Hallownest's Crown which bears resemblance to the Radiance. Dream-nailing this statue will yield the lines:
"...Remember... Light..."