Discharges searing beams of light from the crystals on its back as it crawls around, seemingly unaware.
---
These creatures look weak, but sometimes burning pillars of heat will burst out from the crystals they carry on their backs. Be wary, and time your strikes well!

Crystal Crawlers are enemies in Hollow Knight. They are creatures who use crystal lenses to focus beams of searing light from their backs.[1][2]
Behaviour and Tactics
Crawls along any surface of whatever platform it is on, rounding corners when coming to an edge. It shoots an intermittent beam of energy from the crystals on its back. The beam starts thin and harmless, emitting a charge-up sound.
They deal contact damage and are invulnerable to physical attacks, however they can be killed easily with Spells such as Desolate Dive or Shade Soul, or with area of effect Charms such as Defender's Crest or Spore Shroom.
They can also be damaged by the Sharp Shadow, and

Dreamshield Charms, and by Weaverlings, and the

Grimmchild.
...Light...Danger...
...Safe...Dark...
...Hungry...Hungry...
...Scared...
...Eat...When...
...Kill...Hurt...
...Away. Away...
...Pain...
Location
They can only be found in Crystal Peak, commonly in the northwest portion.
Gallery
Trivia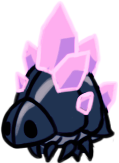 A cut version of the Crystal Crawler can be found in the game files and even appears in the Hollow Knight Press Kit.
---
References