Timid scavenger that crawls through the caverns looking for food.

---

Dull and pathetic. Hardly worth killing.
Behaviour and Tactics
Meanders back and forth peacefully and doesn't attempt to target the player. Cannot climb up walls or ceilings.
---
Dream Nail Dialogue
...Light...Danger...
...Safe...Dark...
...Hungry...Hungry...
...Scared...
...Eat...When...
...Kill...Hurt...
...Away. Away...
...Pain...
---
Location
The Crawlids can be found mainly in the Forgotten Crossroads, as well as in the Howling Cliffs and northeast part of Greenpath. One can be found at the top left corner of the Blue Lake.
Trivia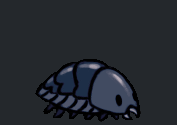 The Crawlid is one of the few enemies to respawn upon leaving and re-entering the room.
In a Kickstarter update they were referred to as Snittering Crawlid:
"Nothing more than a nuisance, these oblivious little scavengers wander about aimlessly looking for scraps of food."

The design of the Crawlid prior to release featured a smooth shell with no spikes.