The Grimm Troupe Content
---
Carefree Melody is a Charm in Hollow Knight. It has a chance to block damage when the Knight is hit.
Usefulness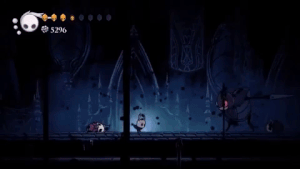 The block chance resets to 0% every time the charm prevents damage, and increases with each hit taken. Overall, it negates damage on 22.4% of hits taken, which effectively gives the player 29% more health. With 13 masks (including those added via healing), the charm will enable the player to take just as many hits as Lifeblood Core against sources of double damage. And, unlike the other health-increasing charms, it also improves the player's healing efficiency by 29%, since each mask healed is 29% more valuable.
The hit counter doesn't reset even when the charm is unequipped. If you manage to get hit many times without it activating, you can unequip the charm to store the increased block chance for later. Storing a 7 hit Carefree Melody means the next attack has a 90% chance to be blocked. This can be especially useful against radiant bosses in the hall of gods, as a single blocked attack effectively doubles the player's health. However, there's only a 1.5% chance of getting to 7 hits without it activating, so grinding for 90% block requires taking 293 hits on average. Comparatively, getting the charm to 70% block would happen once every 46 hits.
Will allow the effects of other charms to continue through or activate alongside its own effect, save for Grubsong which requires taking actual damage.
How to Acquire
After banishing the Grimm Troupe, the charm can be acquired from Nymm by talking to him in Dirtmouth.
Probability
The overall probability of blocking a hit comes out to 22.3794%, leading to an effective increase in player health of 28.8317%.
The odds of the charm activating increase with each hit taken since it last blocked damage:
| 0 Hits Taken | 1 Hits Taken | 2 Hits Taken | 3 Hits Taken | 4 Hits Taken | 5 Hits Taken | 6 Hits Taken | 7+ Hits Taken |
| --- | --- | --- | --- | --- | --- | --- | --- |
| 0% | 10% | 20% | 30% | 50% | 70% | 80% | 90% |
Getting the charm up to 7 hits without it activating can take quite a long time:
| | 1 Hit/ 10% Block | 2 Hits/ 20% Block | 3 Hits/ 30% Block | 4 Hits/ 50% Block | 5 Hits/ 70% Block | 6 Hits/ 80% Block | 7 Hits/ 90% Block |
| --- | --- | --- | --- | --- | --- | --- | --- |
| Odds of getting X hits without activating | 100% | 90% | 72% | 50.4% | 25.2% | 7.56% | 1.512% |
| Expected number of hits taken to get up to X | 1 | 2.2 | 4 | 7.2 | 16.4 | 57.9 | 294.4 |
Charm Interactions
Stalwart Shell


Applies Stalwart Shell's effect even when the damage is negated by Carefree Melody.

Thorns of Agony


Thorns of Agony will still trigger even if damage was negated by Carefree Melody.

Baldur Shell


Carefree Melody's counter will increase from hits to the shell and can protect it from damage when activated.

Hiveblood


Carefree Melody can prevent damage from interrupting the regeneration of Hiveblood masks.
Trivia
This charm takes up the spot that Grimmchild was in previously.
The Delicate Flower will be destroyed even if damage was negated by Carefree Melody.
Carefree Melody is inaccessible in Godseeker Mode.
Over an infinite series of masks, the charm will activate on approximately 22.3794% of all incoming hits. However, since each activation itself preserves more health to advance the activation process with, this comes out to an average 28.8317% increase in effective health. Furthermore, since this health is not added through masks, it doubles as a 28.8317% increase to effective health gained per heal as well, regardless of the healing method.
The precise chance of it activating on the 1st, 2nd, ... hit are 0%, 10%, 18%, 21.6%, 25.2%, 17.64%, and 6.048%. The odds of getting to 7 without activating is 1.512%
Charm Compendium

Main Game

---

Wayward Compass

Gathering Swarm

Stalwart Shell

Soul Catcher

Shaman Stone

Soul Eater

Dashmaster

Thorns of Agony

Fury of the Fallen

Fragile Heart

Fragile Greed

Fragile Strength

Spell Twister

Steady Body

Heavy Blow

Quick Slash

Longnail

Mark of Pride

Baldur Shell

Flukenest

Defender's Crest

Glowing Womb

Quick Focus

Deep Focus

Lifeblood Heart

Lifeblood Core

Joni's Blessing

Grubsong

Grubberfly's Elegy

Hiveblood

Spore Shroom

Sharp Shadow

Shape of Unn

Nailmaster's Glory

Dream Wielder

Kingsoul

Void Heart

The Grimm Troupe Content

---

Unbreakable Heart

Unbreakable Greed

Unbreakable Strength

Dreamshield

Weaversong

Sprintmaster

Carefree Melody

Grimmchild
Community content is available under
CC-BY-SA
unless otherwise noted.