Bests its prey by spitting corrosive liquid. Often hunts in packs.

---

Cunning predators that will try to pick you off from a distance. Don't give them any space, just charge in and cut them down! You'll find they're not so cunning once they are dead.
Behaviour and Tactics
Will aimlessly hover around until approached by The Knight. It is best to get in close and strike as soon as possible, as it will attack from a distance by spitting blobs of corrosive liquid. They can easily be heard from a distance by the whirring sound their wings make.
---
Dream Nail Dialogue
...Light...Danger...
...Safe...Dark...
...Hungry...Hungry...
...Scared...
...Eat...When...
...Kill...Hurt...
...Away. Away...
...Pain...
---
 Location
The Aspid Hunter can be found in the Forgotten Crossroads (mainly the area where the Glowing Womb is collected) and at the other side of the Ancient Basin Tram station.
They can also be spawned by The Collector.
Trivia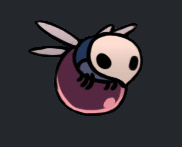 The Aspid Hunter is one of the few enemies that respawn upon leaving and re-entering the room.
In a Kickstarter update, it was referred to as Bulbous Hummingnit (Male):
"The male of this species is extremely aggressive, and will spit corrosive balls of venom at prey and intruders alike. Especially dangerous when encountered in packs."
Pre-release Aspid Hunter featured a reddish body opposed to a bright orange.